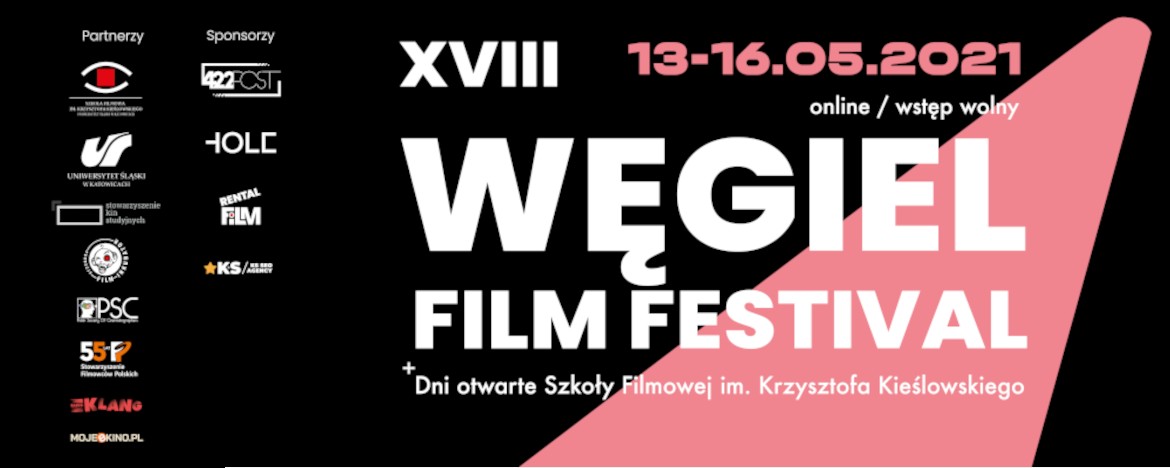 The 18. Węgiel Film Festival will begin this Thursday, May 13, 2021. The event is organized by students of the 2nd year of the Film Production at the Kieslowski Film School in Katowice. The idea of the festival is to present the work of film school students from all over the world to a wider audience. The heart of the festival is the competition of short fictional and documentary films made by students from all over the world. Free screenings of 30 competition films will take place on the MOJEeKINO.PL platform.
A number of attractions have been prepared for the participants of the event. Four outstanding cinematographers: Jolanta Dylewska, Weronika Bilska, Monika Lenczewska, and Ita Zbroniec-Zajt will take part in a panel discussion on the role of female cinematographers in Polish and world cinema. They will share their experiences gained from working in different parts of the world, including Asia and Africa.
Director of the Polish Film Institute, Radosław Śmigulski, for the first time during the student event, will present young directors with the possibility of a full-length debut as part of the Production of Microbudget Films "First Film" program and answer their questions.
Piotr Domalewski - a graduate of the Kieslowski Film School, nominated for the 23rd Polish Film Awards - Eagles 2021, will reveal, together with Zofia Stafiej, a recipe for working with an actor and directing a debutant.
Photographers will surely be interested in the round table with the World Press Photo winners. Natalia Kepesz, Daniel Rodrigues, Nuno Andre Ferreira and Rafał Milach will take part in it.
Elena Okopnaya, winner of the Silver Bear at the Berlinale 2018, will present in an interview with Robert Sowa the secrets of her work as a set and costume designer.
The accompanying events will close with a masterclass with Dorota Roqueplo, costume designer of such films as incl. "Corpus Christi" by Jan Komasa, "Magnesium" by Maciej Bochniak or "Influence" by Łukasz Barczyk.
The 18th edition of the Węgiel Film Festival will be held on May 13-16, 2021, and participation in the event is free of charge.
A detailed program of the festival is available on the website: http://www.wff.us.edu.pl/